Wireless Internet Service Provider in Macon GA-Imperial Wireless
Posted by HASSAN JAVAID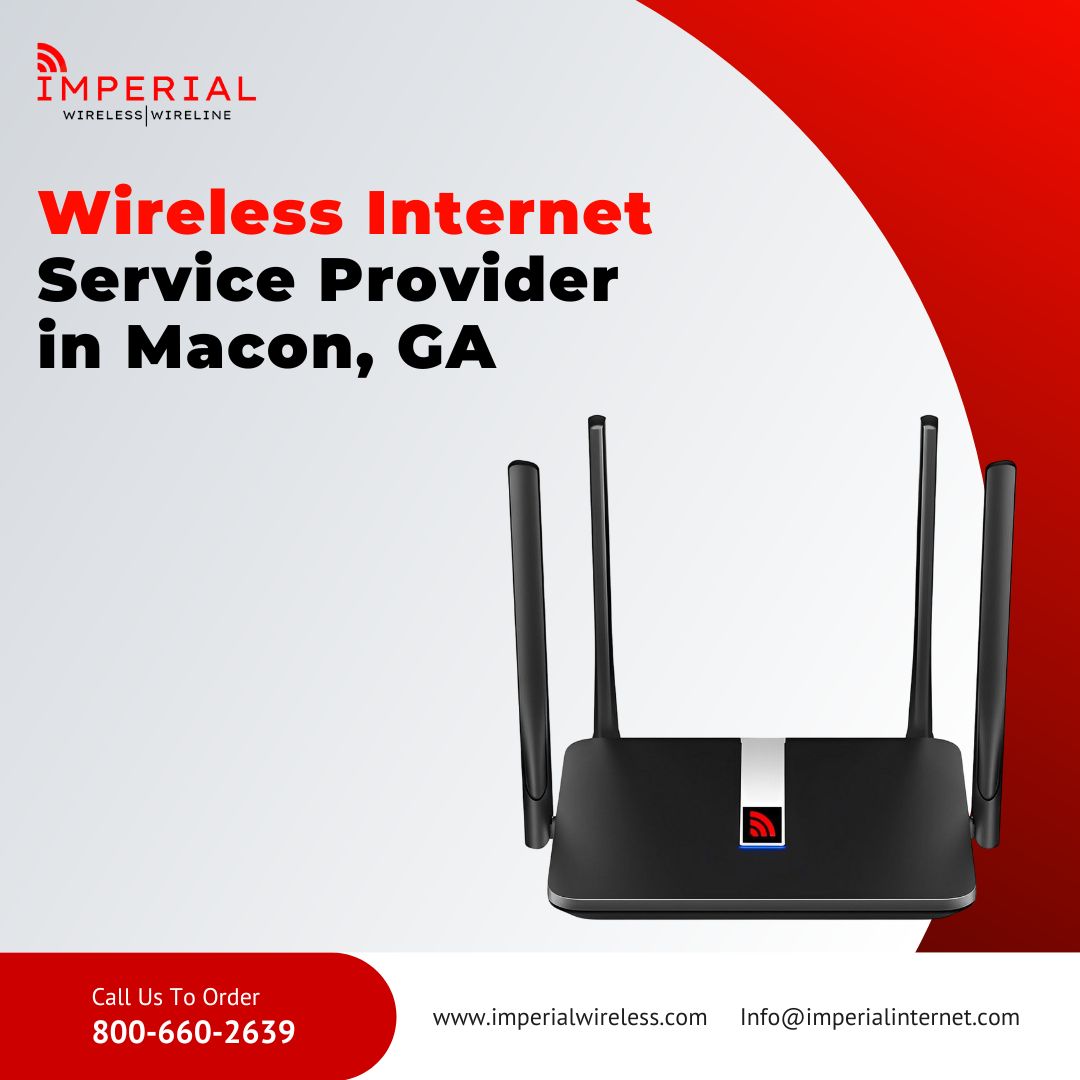 Introduction
The broadband services offered by wireless ISPs aim to provide flawless online connectivity so that you can work online without any hindrance, enjoy live video streaming, and connect with your peers through video conferencing.
WISPs are service providers that employ wireless networking technologies to provide access to the web rather than cables or wires. This article will define and explain how they function, their benefits and drawbacks, and give examples of WISPs on the market. Imperial Wireless is a leading wireless internet service provider in Macon GA.
Procedure of Wireless ISPs
They focus on providing undisrupted connectivity services to their end users. Imperial Wireless offers high speed Internet in Macon GA. Depending on the technology's availability, cost, and performance, they use various wireless technologies, such as Wi-Fi, cellular, satellite, or other wireless systems. WISPs usually work in two ways:
Point-to-multipoint communication: This is the most prevalent method of providing wireless internet service, in which a central base station or tower distributes a wireless signal to several consumers within a specific range. The users will use a modem and router to connect to the broadband.
Point-to-point: This is a method of connecting two places not within range of a base station or tower. The settings at both ends need a peripheral device, like an antenna, to catch the signals.
Main Highlights
WISPs especially Imperial Wireless offer some advantages and disadvantages over wired ISPs, including:
Advantages
Accessibility: Wireless networks can expand the availability and reach of internet connections, particularly in rural or isolated places where cable infrastructure is limited or expensive. It is easy to work anywhere even if you are away from your location.
Mobility: It gives you the benefit of wire-free connectivity from anywhere, anytime. Wireless networks can also simultaneously handle several users and devices within a given range.
Scalability: Scalability entails the capacity to readily expand or change wireless networks to meet changing demands or consumer needs without needing new cable or equipment. Wireless networks can also adapt to changing weather patterns and topographical factors.
Cost-effectiveness: Wireless networks may lower connectivity installation and maintenance costs, as well as the energy consumption and environmental impact of wired networks.
Disadvantages
Security: Wireless networks may be more vulnerable to hacking, interception, or interference by unauthorized parties because wireless signals are easy to access or interrupt by anyone within range. Users may need to maintain unique passwords to avoid cybercrime.
Reliability: Due to weather, physical impediments, electromagnetic interference, or network congestion, wireless networks may be more susceptible to signal loss, deterioration, or stoppage. Wire-free is a new emerging technology, so can downloading and uploading speeds vary?
What are some market examples?
Numerous wire-free ISPs are on the market, each providing a distinct type of wireless internet service based on each wireless technology's availability, pricing, and performance. Wireless service examples include:
Imperial Wireless: Imperial Wireless offers unlimited high-speed Internet, which is wireless, 5G, and uncapped. Just plug in and play with an additional 5G router provided by one of the leading wireless internet providers in Macon, GA.
AT&T: AT&T is a well-known broadband provider with flexible data plans for residential and business users. They also provide economical bundles in which Internet, phone, and TV packages are grouped for users' convenience.
Verizon Fios: In select urban and suburban locations, Verizon Fios provides fiber-optic internet connections.
Some Future Trends and Prospects
5G FWA: 5G FWA is a wireless internet service that employs 5G cellular technology to give homes and businesses high-speed, low-latency internet access. 5G FWA may provide faster speeds, more capacity, and excellent coverage than existing wireless technologies, competing with traditional technologies like cable or fiber. Future generations will take advantage of this new technology in many IT fields.
Bundled services are bundles of services provided by the same provider or partners, such as Internet, TV, phone, streaming, or security. Bundled services assist WISPs in attracting and retaining clients, increasing revenue and loyalty, and differentiating themselves from the competition. Bundled services may also benefit from wireless technologies' mobility, scalability, and accessibility. Many customers want bundled services that include wireless internet service.
Edge computing: Edge computing is distributed computing that processes data closer to the source or user rather than on centralized servers or clouds. Edge computing may necessitate increased connectivity and capacity from Wireless ISPs, as well as new collaborations and business models. They may play an essential role in achieving the growing demand for edge computing. This technology will benefit emerging IT fields.
Conclusion
Wireless ISPs like Imperial Wireless are determined to provide high-speed Internet in Macon, GA, at affordable pricing. This will increase data plans, phone and TV packages, and internet bundles. Wire-free networking enables you to eliminate loose wires, connect as many devices as possible, and provide seamless connectivity.