A Guide to Wireless 5G Home Internet| Imperial Wireless
Posted by HASSAN JAVAID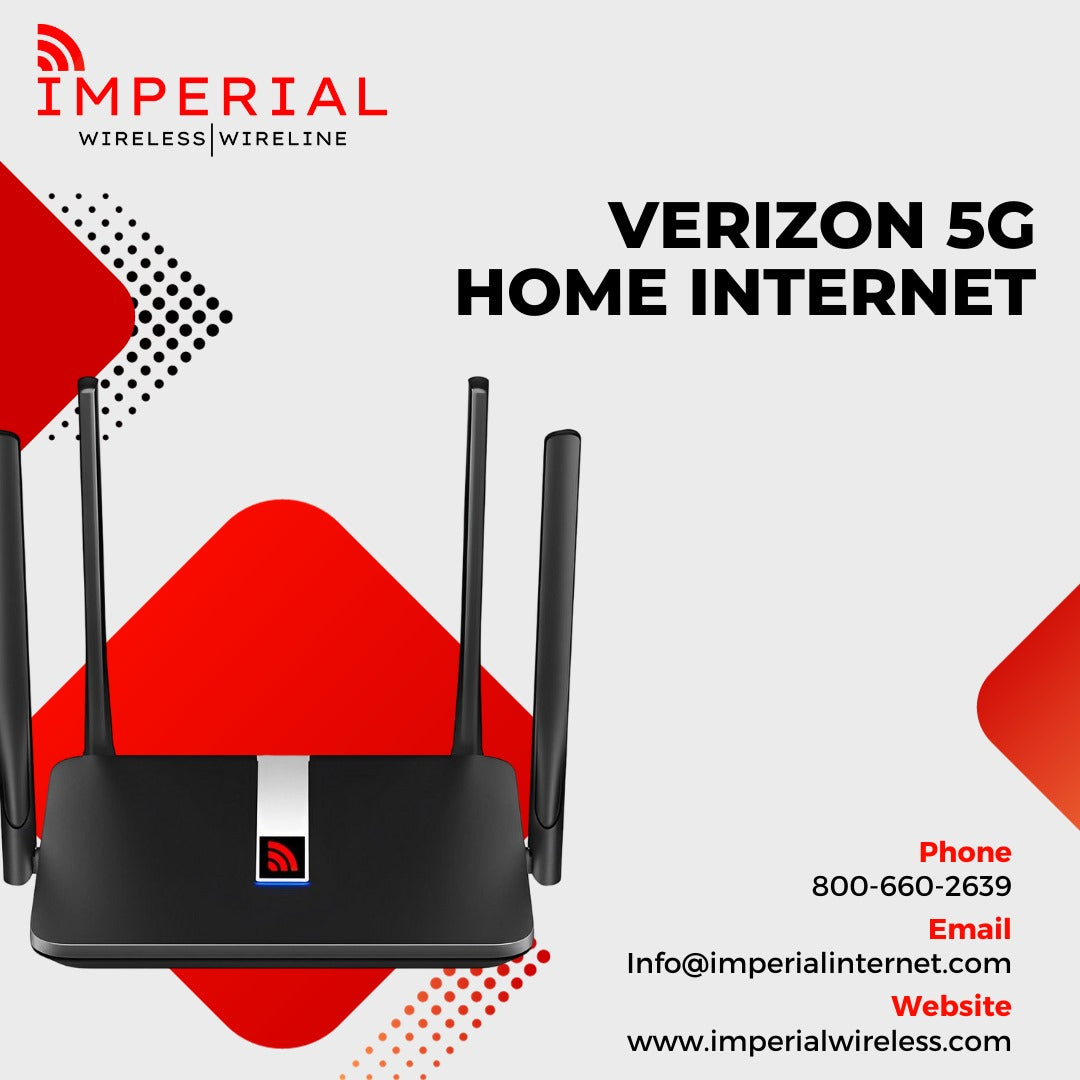 The technology for wireless 5G home internet is the driving force behind the latest smartphones, but it is also providing web coverage to fulfill the residential wireless internet requirements. A robust home web connectivity is important, even though you are doing a remote job or playing state-of-the-art video games. The latest 5G residential web plans, sold by the top-end 5G internet service providers, offer stellar speeds and market-competitive prices. However, their coverage range differs for various regions. Thus, in this post, we will offer you a guide to wireless 5G home internet.
5G Home Internet Explained
5G refers to one of the latest versions of the internet technology. It is the fifth generation web connectivity, bringing you exciting speeds and cutting-edge reliability. It is a technology that offers tremendously fast internet service on smartphones. That is correct. The wireless 5G home internet works by emitting various radio waves compared to the past generations. It is also made to offer higher data transfer rates with lower amounts of lags or jitters than the previous technologies.
What Makes 5G Home Web Connection Unique
Many internet service providers offer web connectivity through cables linking your home to a complex network. On the contrary, the 5G internet works differently. That is because it is permanently accessible through wireless network service. That implies the wireless 5G connection provides the links between your internet service provider and your home. To properly use the 5G web connection, you will require an access point configured by the cellular service offering the internet. It will easily receive the web signals and emit them to your PC, smartphone, tablet, or any other device in your home. Hence, the web links between your home and Verizon 5G home internet providers operate using wireless technology. With this type of internet system, you will require a signal receiver at the inside of the house or outside to catch the signals from the sender station. It works like an internet connection service that runs in a way the satellite internet provisioning service operates. You are bound to receive the 5G internet wireless service in a specific coverage area. Hence, even if you are accessing the 5G internet services from your home, the sender sends its signals to a specific limited area. 
Who can Benefit from 5G Wireless Home Service?
The 5G ISPs (internet service providers) are lending a hand to introduce their smooth, fast, and top-quality services to the US rural regions. The US citizens can enjoy the service to meet their everyday networking requirements by connecting with Verizon 5G home internet. Hence, they can use it to place orders in online stores and run their business. They can benefit from it to educate their children or learn from the web classes. Moreover, many remote settlers can sell their merchandise and services online.
Some Further Benefits of 5G Wireless Home Internet
There is a vast scope of remote 5G wireless in the distant US regions. That is because it can lead to the entire development of communities settled in the faraway places of the USA. This type of internet can serve people who have yet to have high-speed internet available before. The Telecom service providers are hoping that 5g home internet Verizon is going to be a significant breakthrough when it comes to provisioning of high-tech services to remote areas. They will be able to manage their resources in a better way with the help of lightning-fast internet. For example, they will be able to carry out their banking transactions in a secure yet convenient way. Also, they will be able to take advantage of the electronic cash that they can transfer to meet their online requirements. 
The Telecom Companies are Expanding their 5G Web Coverage
The Telecom internet service providers are expanding their web connectivity range at a tremendously fast rate. The cost-effective yet reasonable prices are highly attractive. That makes them ideal for receiving the 5g home internet Verizon facility in remote areas. The upcoming years will prove that 5G internet services will be a valuable component in improving the economy and lifestyle of the people settled in remote US areas.
5G ISPs are Stepping Up in their Game of Internet Service Provisioning
At present, it is a great development that 5G internet service providers are extending their services in plenty of far-flung US regions. Hence, it can be a reliable resource for the faraway American settlers who prefer to connect with the rest of the world via reliable and speedy 5g home internet Verizon service. Remote citizens are discovering the benefits of this technology gradually and learning the ways to use it to the best of their abilities. But it will take some time for the internet-based system to develop in their communities. As they get used to the technology, the remote settlers will start enjoying the complete potential of 5G high-speed internet over time. Hence, the 5G internet will become the driving force behind their success in a world where sharing information is an essential aspect of modern civilization. So, the distant US communities will become the beneficial resource of the country.
Conclusion
The sophisticated service of 5g home internet Verizon is the compelling force running the internet connection on cutting edge smartphones. Also, it offers internet facilities to meet wireless web connectivity requirements for the home. Top-notch home web connectivity is vital when working on a remote project or playing the latest video games. The new 5G household web plans, offered by the top-of-the-line web service providers, give tremendous speeds at affordable prices. However, their coverage distance differs for several regions. Thus, in this blog, we provide an overview of wireless 5G home connectivity. Hence, living in a remote US area, you can benefit from it. Our guide has updated you about why using 5G wireless service is necessary in rural US regions.