Best 5G Home Internet Service Provider In Georgia 2023
Posted by HASSAN JAVAID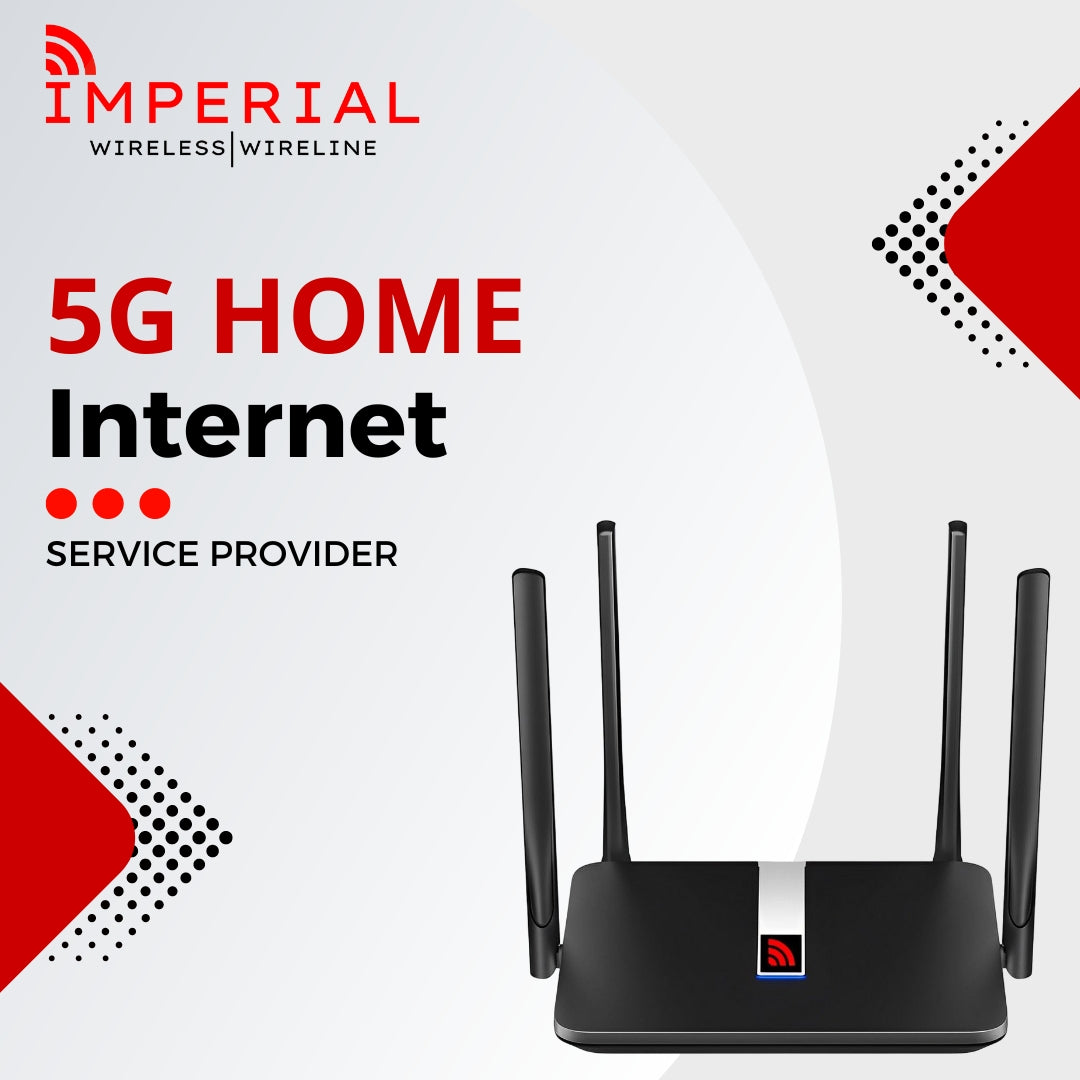 Cell phone networks have usually been an afterthought regarding home internet access. Yet, 5G offers download speeds sufficient for an entire family's demands. Although 5G isn't a one-size-fits-all solution, if you're already an Imperial Wireless user, 5G's affordable costs and fast download speeds make it a viable option.
Let's break down the essential information you need to know if you're considering switching your home internet to 5G.
What is 5G?
Perks and drawbacks of 5G
What is 5G?
Smartphones purchased within the past few years use the 4G or 5G cell phone data systems. Although 4G is an outdated technology, users who only require mobile connectivity have found it sufficient, with download rates of about 20 Mbps.
However, the 2019-released 5G technology delivers top download rates of up to 1 Gbps (in ideal conditions). A carrier like Imperial has introduced 5G wireless internet plans that offer 5G access inside your home.
Setting up 5G home internet
You must place a gateway device close to a window or a high point in your house to set up 5G home internet. This receiver will pick up the 5G signal from your carrier and send it back to all the devices in your home so they can connect to the internet.
A 5G signal is distributed throughout your home by gadgets like the 5G router from Imperial.
Because 5G is wire-free, you won't have to worry about running cable through your walls. To receive the finest 5G signal, you might need to tamper with your gateway if there are dead spots in your home for the reception.
Perks and drawbacks of 5G
5G is in a different league in terms of functionality and price compared to conventional cable service providers. The following information will help you decide between 5G and cable networking.
Cost
Most home 5G plans are priced similarly to regular cable data plans on paper. The starting prices offered by us (around $50 per month) are comparable to those of cable ISPs like Spectrum and Xfinity.
Nevertheless, you can significantly reduce your monthly fee by combining your cell phone and home 5G service. For instance, if you also have a smartphone plan, we will take $25 to $35 off your monthly home 5G fee. We offer unlimited data, no equipment costs, and price guarantees for up to three years to attract more customers.
Availability
Although 5G coverage is more common than a few years ago, 5G access is another issue. When we looked for 5G across several states, the findings could have been more accurate, and it was mainly unavailable in rural areas.
Our home 5G plans cover over 70 million homes nationwide. Therefore, home 5G is not a niche product. Nonetheless, providers have begun rolling out coverage in individual cities. Your likelihood of receiving service will also depend on how close you are to a large metropolis, with some towers having a broadcast range of only 1,500 feet.
The 5G connection at your home is dependent on the nearby 5G towers.
For instance,5G plans display speed ranges rather than the maximum download speed you might be used to seeing from a data package. Download speeds for 5G home range from 85 Mbps to 300 Mbps, while those for 5G Home plus range from 300 Mbps to 1,000 Mbps. In most cases, your actual speed will be in the middle of these two extremes.
Although customers have reported online average home 5G speeds between 200 Mbps and 400 Mbps, performance drops could happen if the traffic on the 5G tower nearby is too heavy. Suppose your local home 5G carrier offers a trial period or no-contract service. In that case, we advise taking advantage of this flexibility and testing out 5G to see if your home can receive a reliable 5G connection.
Conclusion
The most crucial benefit of 5G is that it is so fast that lag and buffering seldom happen. Your connection will run smoothly because many users will use the web simultaneously. This will let everyone in your house do more things simultaneously. You can set up your new 5G without a landline, fiber optic cable, or engineer in just a few seconds. To get started, you only need to plug in your 5G broadband hub.