The Fastest Internet Providers in 2023
Posted by HASSAN JAVAID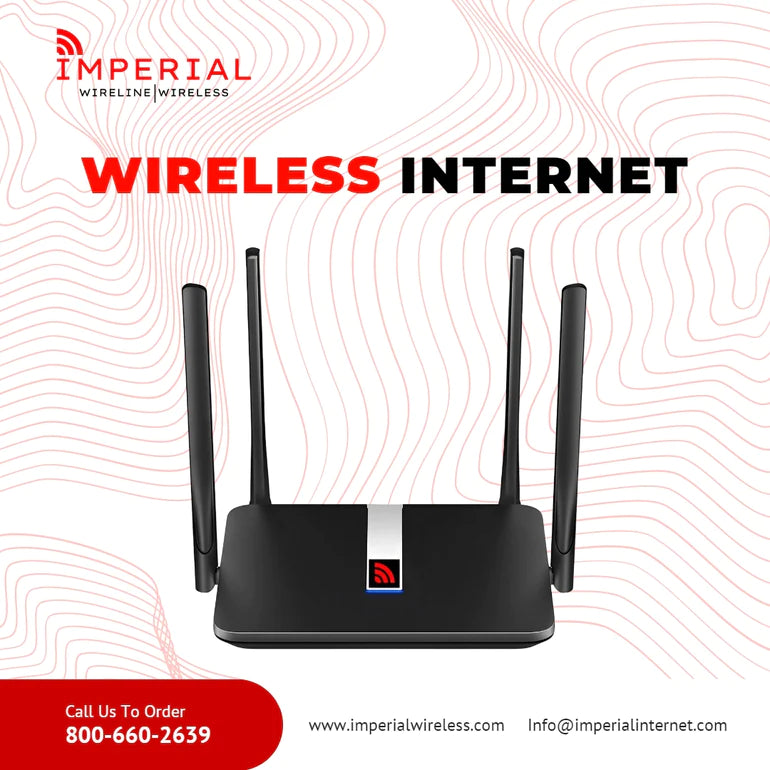 Imperial Wireless, a service provider near you offers economical unlimited internet services in Georgia, USA from site inspection, layout, and development through connection and activation. We also provide constant preservation, requirements, administration, and quality inspection to keep your network in the best optimal condition.
Imperial's best internet provider in USA offers a range of 5G plans with varying capacities, speeds, and price packages. This range comprises both imperial unlimited internet Wi-Fi deals and unlimited broadband plans to provide a complete wireless solution. We are providing you with data plans according to your requirements. For your facilitation, we offer you connection packages according to your requirements.
Pricing
We are offering you different price packages according to your requirements. There is a one-time activation charge of $75. The Modem Lease Fee is $19.99, Imperial Fee is $10 which includes the service of our technicians also. There is no fixed contract type. This will not impact your credit score. There are no additional hidden costs.
Features
In the fast-paced world of business, many operators find that speedy net services help them stay competitive. High-speed internet connectivity is crucial given the development of modern technologies and workplace advancements.
With this high-quality service, you have the choice of consistent, quick upload and download speeds as well as the simplicity of connecting many devices.
If you're thinking about upgrading your online access to accommodate your expanding company's needs—such as hiring more staff or opening more locations—take a look at some of the activities that call for faster web speeds. For cloud-based services, video streaming and downloading phone calls, video conferences, and data storage backups, you may require large amounts of bandwidth.
You may use numerous devices at the same time while using the web. For instance, you can stream high-quality videos on twelve devices simultaneously. If you watch in high-definition quality, you can connect up to sixty devices.
It is quick to download videos with this speed. A music album, for instance, will download in around two seconds, and a video will download in about two minutes. A 300Mbps connection should provide nearly instantaneous web browsing and email delivery.
On a 300Mbps connection, downloading speeds for songs, movies, and games are as follows:
Downloading a tune will take two seconds.
A two-hour movie takes twenty-seven seconds to download (SD quality)
20 minutes to download a PC or console game.
A mobile app will take one second to download.
Images will download within seconds
When mailing someone, a page will display within seconds.
5G/5G + services
It stands for the fifth-generation mobile network. It is the successor of the four generations of the networking. It can instantly connect various devices successfully.
It is an advanced alternative to cable wires and digitally subscribed wiring. It will allow you to access and download private, public, or hybrid apps speedily which will reduce your workload on the hardware and allow you to enjoy streaming or downloading high-definition videos, browsing, or enjoying a seamless gaming experience.
It will provide connectivity to your software devices if your server goes down. So if you are already using an old connection with slow speed, you should change it to Unlimited Broadband.
You can also use two Sims for better connectivity
The ability of a modem to connect with two Sims is a great technological advancement. Industries can postulate a standby device to which their solitary router will shift in the case of backup. This is because a router has to go through a few processes before connecting to the network. However, this processing system can even initiate without using the net. Deployments can be made much simpler and inventory complexity can be dramatically decreased by the ability to just insert an active SIM and power up without manual modem settings.
Storage of two hundred to three hundred GB
Most of our unlimited data plans offer two hundred to three hundred gigabytes. This much storage is adequate for storing images, research articles, and downloading videos, recording business transactions and documents.
Additional data of 1 GB at the cost of $1 only
We are providing you additional data of 1 GB at just the price of $1 so that you can continue using our seamless unlimited Wi-Fi deals or stream two hours of videos.
Interconnectivity
Numerous hardware ware devices are connected online simultaneously, even robotics and drones. Creating a single dashboard of communication for workers in an organization. The devices can stay connected even when the server is down.
Incomparable bandwidth
We are providing you with fast-speedy, affordable data usage rates, the latest technology of fifth-generation routers, enhanced virtual reality, and real-life work experience.
For the advancement in operations, medical procedures, and the automobile industry
With advancements in medical technology, management of infrastructure, the Automobiles industry, and even the use of artificial intelligence and robotics, our 5G services play a pivotal role.
With the cheap data rates, and flexibility, our 5G services can provide limitless connections to a number of sensors which enable us to fulfill your connectivity issues.