High Speed Internet Service Provider | Imperial Wireless
Posted by HASSAN JAVAID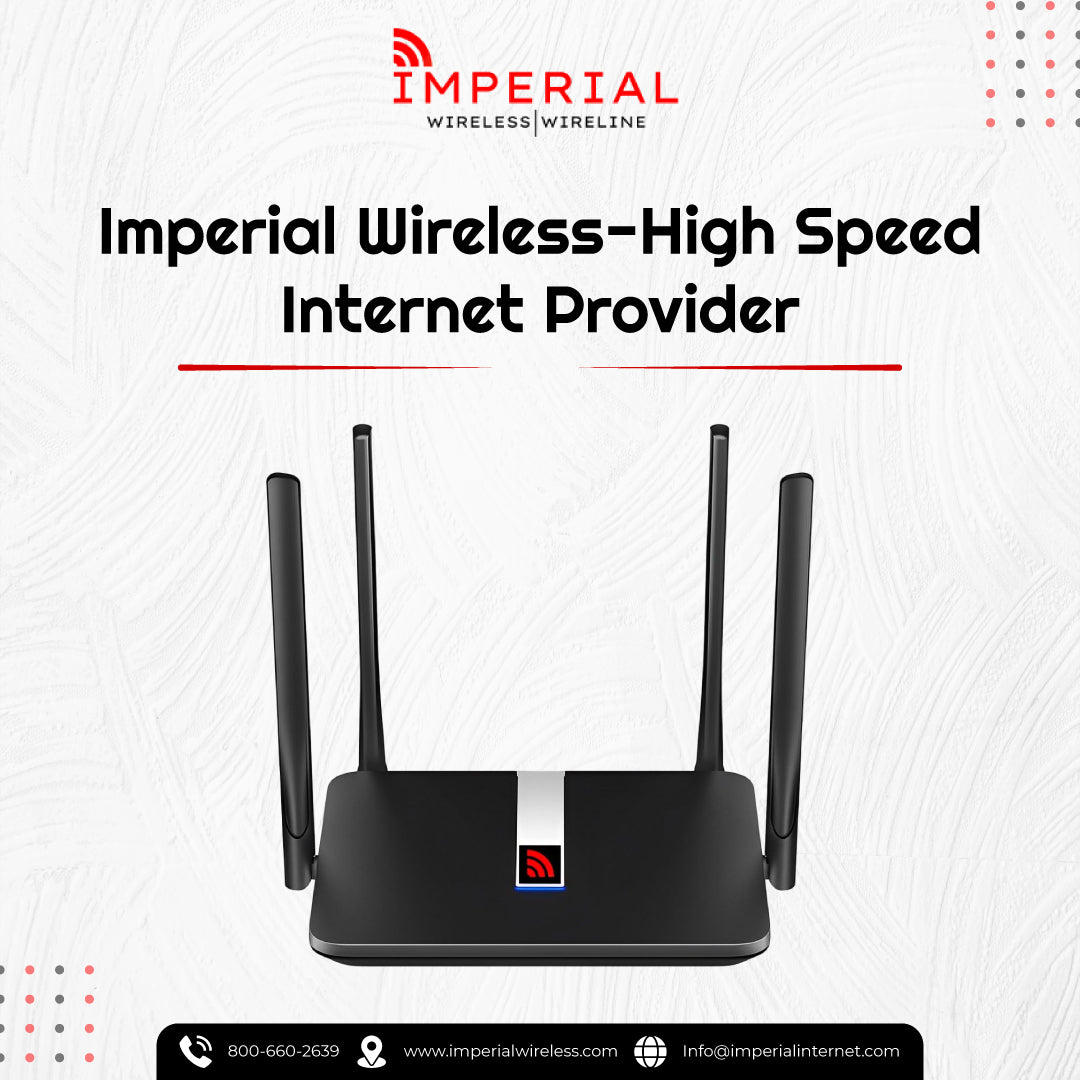 Overview
Imperial Wireless, one of the leading high-speed internet providers, provides continuous maintenance, sustenance, remote monitoring, and health checks to keep your network in optimal condition. Our wireless internet has low latency and 4G/5G for optimum business expansion. Because of our increasing reliance on wireless technology, low-performing or unanticipated networks can significantly affect daily activities. Our consistent, trustworthy, and future-oriented wireless networking solutions can lower overall costs while keeping your organization operating efficiently.
Data Plans
The base price for a basic 30 GB data package is $79.99.
No fixed contract type
Speed up to 10 MBPS in the basic plan
Further unlimited data plans available
Highlights of data plans by Imperial Wireless
Imperial Wireless has a wide selection of data plans depending on your needs.
 It's essential to consider your particular usage conditions when determining how much significant data you need. However, sometimes you pay too much for data you do not need. If you pick a data plan with inadequate data, opting for such a plan could result in losing access to the internet in the middle of the month. A typical user uses 30 GB of mobile data each month.
It'll allow you to pierce eighteen thousand websites, send simple electronic mail and 6,000 electronic messages with attachments, allow you to download sixty thousand jingles, enable you to view 60 hours of movie streaming, and also allow you to make voice calls as well as audiovisual calls for nearly nine hundred hours.
Our preliminary data plan will enable you to frequently transfer email, watch multitudinous videos without a Wi-Fi connection, online gaming experience and music streaming, chat, and scroll on social media operations for hours.
Additional Features and Services
Imperial Wireless's best high-speed internet plan is a secure, nicely priced choice ideal for companies with a small staff. You'll benefit from a dedicated line (which means your connection will not be interrupted) and bandwidth that can accommodate your standard requirements. You may perform various jobs during your workday with a standard DSL connection's 10 Mbps internet speed.
Downloading and transferring 
 Downloading and transferring lines must constantly download data on PCs, laptops, or mobile devices while probing websites or exercising apps. The texts, images, or videos employed on the websites or operations consumers access could constitute this data. Most of this information is only stored on the device long enough to be used before being deleted. An internet speed of 10 MBPS is sufficient for downloads and incontinently transferring lines.
Monitoring checks
With the backing of this internet package, you can fluently cover and keep track of your bills that are transferred and entered into the accounting system online. You can post your checks and access the account entries produced by the reviews or journals under the Reports area. The account records can be streamlined with your entered bills, and any new documents can be attached to the issued checks fluently at a speed of 10 MBPS, allowing you to examine them whenever you want. Send copies of your reviews, quotations, or orders to your customers without difficulty, and check to see if they've got them.
 Completing deals online
This internet package assists in making online deals similar to protected payment procedures, 2- Factor Verification, Authenticate Trades, guarding PCI Compliance, Easing sidesteps storehouse of client Information, use of Tokenization and Encryption, choosing a Secure-E commerce Platform, how secure your website and also assists in executing simple web operations.
 Mobility 
It's okay to tether your workers to their divisions. A hand can move about the office using our wireless network and still access real-time data without losing connection to the commercial network. This improves cooperation and product within the association, which is unattainable with a traditional network.
Browsing the internet
The browser is the primary database on your laptop, phone, or tablet. You can freely converse with buddies, work, learn, watch pictures, and have fun on the internet. You can enjoy streaming videotape, audio services, and online gaming for your recreation. Use video calling to communicate with loved ones who are far away or to work or learn from home.
Internet Speed 
There are no" one size fits all" results regarding the Internet; businesses need customized programs to meet their unique conditions. The internet is virtually necessary for a successful, cutting-edge company, regardless of the size of your organization or the dynamics in your workspace.
Conclusion
WISP providers like Imperial Wireless greatly facilitate the world's wireless connectivity, making it simple for people, organizations, and communities to access the internet by utilizing cutting-edge technologies and adopting creative solutions. High-speed internet providers can meet the constant challenge of meeting customers' growing needs for faster speeds, improved security, and reliable connectivity.

To Check Your Internet Speed Download Free Software From GetIntoPc