Get Unlimited Wireless Internet & Wireless Internet Services
Posted by HASSAN JAVAID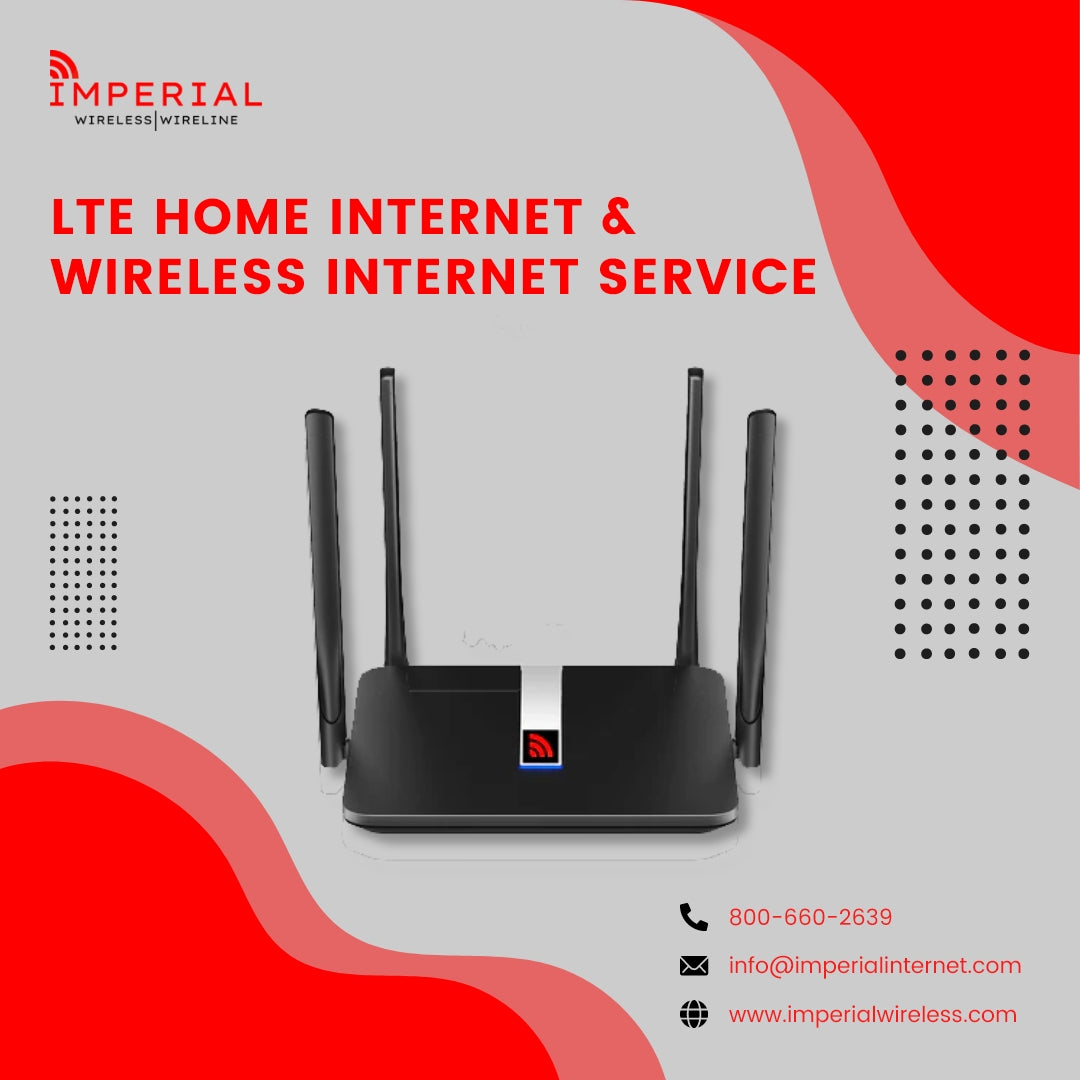 High-speed wireless Internet is not a want. It's a need for every home or office. Many businesses, particularly since COVID, have recognized the importance of high-speed connection at home as they have gone remote. In recent times, 5G wireless Internet technology has surprised the world. It is twenty times faster than the previously launched 4G. 5G offers ultra-low delays in connectivity. It can also transfer more data than the 4G. Another feature that distinguishes 5G technology from other technologies is that it has a higher bandwidth speed. Because of this feature, 5G is faster than previous technologies. You can even connect drones and robots without disrupting the connectivity. With 5G,4K streaming, online gaming, and downloading large files would be possible.
Why Is Imperial The Best Choice For You?
For strong connectivity, Imperial Wireless provides you with appropriate connections and packages. We are the top supplier of software technologies for homes.
We will follow your deployment instructions for our service and provide you with accurate information about the network's availability and performance. We proactively monitor connections to ensure excellent availability, speed, and privacy for our end customers.
Our complete cellular programs increase communication and productivity. 
Expandability
Expansion is the goal of every business. Who doesn't want to grow a business? If you aim to expand your business in the future, it is important to get our service. You will need to hire more people when you expand. More devices will be connected to the web when your team will expand. By switching to wire-free connectivity, you can expand your setup without any hassle. Your setup would be completely wire-free. You can add more connections to your wire-free connection without spending extra money.
Budget-friendly
If you are looking for the best quality networking at a low price, then Imperial is the right choice for you. We provide 5G packages at a low price. Our setup differs from our wired setup. Wire-free setup requires less physical infrastructure, which will be budget-friendly.
5G Business 
We offer a lot more services than just 5g business internet. By building your brand, you can concentrate on what you do best: operating your business. Our goal is to give you access to the newest technologies that increase productivity and free up time wasted on tedious tasks. We are committed to offering trustworthy and respectable solutions.
A smart business solution is a collection of ideas that help an organization achieve its objectives. A few essential options are technical analysis, strategy planning, and the synthesis of complex corporate data. Businesses develop action-oriented strategies to increase their market share.
We want to be responsive to business users' needs, help them identify their most pressing issues, and work to develop solutions. Our Smart Business Solutions offers a range of expert solutions that make life easier for end users and IT specialists. We provide cutting-edge solutions, such as service desks, help desk reaching, and asset management, that can increase your efficiency in the workplace. From the hub of the network to the most vulnerable endpoints, businesses rely on us to manage, upgrade, and secure their operations across on-premises and cloud settings. We help you build real IT resilience to confidently take on your upcoming difficulties.  
FAQs
What is 5G?
In addition to 1G, 2G, 3G, and 4G networks, 5G is the newest global wire-free technology. To connect virtually anyone and everything that is connected, such as machines, objects and gadgets 5G is a brand-new kind of network.
5G technology provides more users with faster multi-Gbps peak data rates, extremely low latency, enhanced reliability, vast network capacity, and a more consistent user experience. New user experiences are enabled by increased performance and efficiency, which also connects new industries.
When will more people get 5G?
Many companies are offering 5G phones and services. Our packages start from $80.00 only. Contact us to inquire further.
Will I need to sign a contract with Imperial?
No. You won't be required to sign a contract. That means that you can keep the service as long as you want. 
What sets you apart From Satellite?
When you use our services, your local antenna connects to a tower nearby (only a few miles away) via radio waves, giving you access to the web. Transmissions from a dish circling the Earth at a distance of about 20,000 miles are necessary for satellites. Because satellite typically costs more, has bandwidth constraints, and has lesser performance, making online audio and video calls might be difficult (delay). Users using our services only receive a quick, low-latency connection; there are no data caps.
How do I use your online ordering system?
What you must do is as follows:
Visit our website and go through the options
Enter your ZIP code here to access all the offers close to your address.
finish your purchase
Enter necessary data