Get The Best Unlimited Wireless Internet For Rural Areas
Posted by HASSAN JAVAID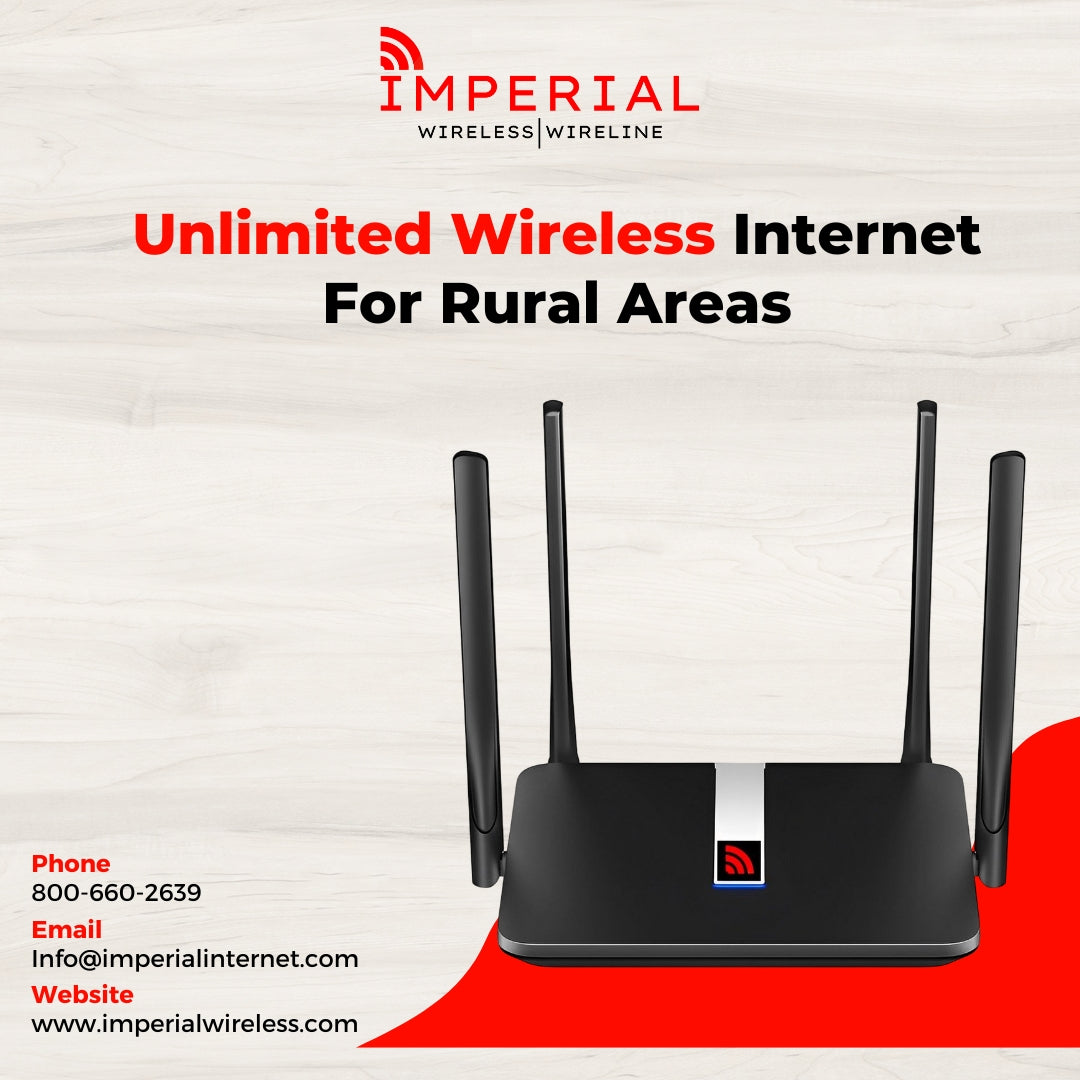 Many people report issues regarding their connection, but Imperial offers a solution by delivering unlimited wireless internet in rural areas.
Our services are widely available in the USA. We provide fiber, broadband, and wireless services. Customer satisfaction is our primary goal. To assist our valuable customers, we have a team of highly experienced and skilled professionals that are available 24 hours a day. You can contact us at any time of the day, and we will be happy to assist you.
5G  
5G is twenty times faster than previous technologies. It uses different radio frequencies that make it faster than the previous technologies. 5G was established based on OFDM (orthogonal frequency-division multiplication). This is a method for modulating digital signals on various channels to minimize interference. 5G uses 5G NR air interfaces together with OFDM principles, as well as more advanced technology to increase speed, like sub-6 GHz and mm-Wave.
As with 4G LTE and 5G technology, OFDM operates on similar principles of mobile networking. However, the brand-new 5G air interface will enhance the capability of OFDM to give users more range and flexibility. It makes 5G connectivity available to more devices and users to support more scenarios.
5G also offers greater capacity by expanding the use of spectrum that range from sub-3 GHz on 4G to 100 GHz and beyond. Because 5G operates within the low band (sub-6 GHz) and mm Wave (24 GHz or more) it offers the highest capacity and speed of multi-Gbps with low latency.
Why are businesses switching to Imperial?
We provide unlimited data packages tailored to your needs. We want our customers to have the highest quality service in rural areas. To ensure the highest quality connection, our expert team monitors the network 24 hours a day. Contact us at any time if you need help with your connection. 
Cost-effective
If you're looking for the most reliable 5G at an affordable price, you're in the right spot. Our high-speed dataplan for rural areas is much less costly than wired data plans. This is a crucial aspect when it comes to choosing the best unlimited data plans for rural areas. When you sign up for our web-based service, you could save money and put that money elsewhere. In addition, if you are in a temporary position or plan to move to a new location using our service, we can also help you save. Our setup is simple; it only requires a tiny physical infrastructure, so if you relocate to a new location, there is no need to carry any structure and our experts will help you establish a connection in your new place.
No Contracts
There are a variety of service providers available on the market. However, you should not sign a contract with a service provider you haven't used before. It's obvious, but why would you commit yourself to a contract? We've got a better deal for our customers: leasing. Use our services for as long as you want, without any contract. 
Customer support
Our expert team is available 24 hours a day. When you sign up for our service, one of our experts will visit your home to set up your  devices. After that, you can enjoy the most reliable connection.
Refund Policy
We allow you to return the product if you're unhappy with our service. There is, however, an expiration date. Returns must be done within 15 working days. We will only accept a return after 15 days have passed. The device must be in the same condition you received it. In addition, the original tags should remain attached to the item.
Shipping Policy
We use delivery partners such as USPS, UPS, and FedEx to deliver our equipment. It takes three to five working days to get to you after you place your order. If you require assistance, please reach out to our customer service department.
Conclusion
We provide the highest quality service at the most affordable price. The most significant benefit of doing business with us is that you aren't required to sign a contract. You can use the service for as long as you are satisfied.
Additionally, when it's time to sign up for any service, we do not run an inquiry into your credit report. You'll be astonished to discover our high-speed data plans starting at just $79.99 monthly. Take the chance to enjoy a smooth connection. Contact us now to sign up!
FAQs
What is the Imperial goal?
We offer affordable and high-quality data plans ideal for offices or homes. 
What makes us different from the other providers of Wi-Fi services?
Because wire-free needs less infrastructure than DSL, fiber-optic satellite, or cable, the network can be upgraded more quickly. Those living in remote areas will be able to receive quicker and more reliable services.
Will my equipment and services get affected due to my relocation?
If you want to know the possibility of bringing the equipment you have purchased, contact one of the representatives. It may be possible to select self-installation if you're traveling within the vicinity.
What impact will it have on my bills?
You can continue using your existing account if you're considering moving to a location where online services are available. To learn more about any other service options or improvements, contact Customer Support.
How do I use your online ordering system?
Visit our website and browse through our most popular deals
Enter your Zip code below to gain access to all offers that are close to your location
Make sure you complete your purchase
Select Imperial wireless and follow the directions, and then enter the required information.