Best Wireless Internet Service Providers In the USA
Posted by HASSAN JAVAID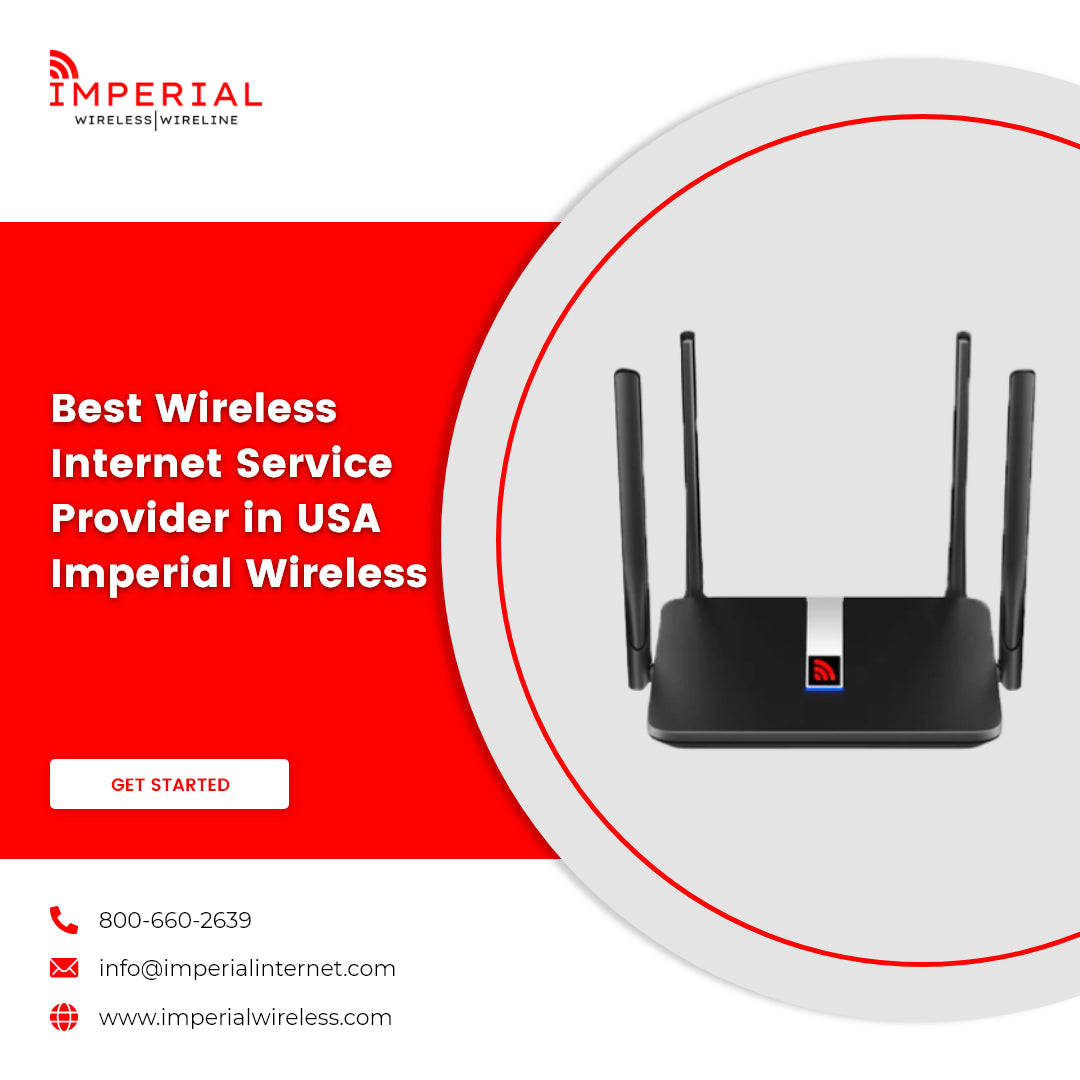 5G wireless internet is the latest technology in today's world. The speed of 5G is faster than previous wirefree technologies. The reason for 5G being faster than the previous technologies is that it uses different radio frequencies. Imperial 5G offers the highest quality 5G wireless internet. We offer high-speed 5G with minimal delays. It has a higher data transfer rate too. It is also an unbreakable network. With this speed possible to stream and download videos of high quality as well as the gaming experience with this speedy wireless internet is simply unbeatable.
Imperial offers the ability to monitor your network 24/7 and provides an alerting system that makes sure the performance of the 5G network is not affected. We have a team of skilled and experienced technicians who can assist you with any issue you might need to ask. We strive to provide customer satisfaction by providing customer support throughout the day via emails and phone calls. Additionally, we provide technical support on-site to ensure a smooth experience for our customers.
What is 5G?
5G was founded in OFDM (Orthogonal frequency-division multiplexing). That is a method of modulating digital signals across multiple channels to minimize interference. 5G utilizes 5G the NR air interface in conjunction with OFDM principles. The brand new 5G NR's air interface will increase the capabilities of OFDM to offer more flexibility and scaling. It allows 5G connectivity to more devices and people.
5G offers greater bandwidths through the expansion of resources in the spectrum, ranging from the sub-3 GHz of 4G up to 100 GHz and beyond. 5G will be used in lower frequencies (e.g. sub-6 GHz) and mmWave (e.g. 24 GHz and above) which can bring high capacity, the multi-Gbps speed with low latency.
5G is made to offer faster, better mobile broadband services, compared to LTE 4G. It expanded into new service areas, such as mission-critical communications, and connect the huge IoT. It is made possible due to new air interfaces for 5G design techniques, like an innovative auto-contained TDD sub frame layout.
What sets 5G apart from previous generations?
The Single Air interface of 5G is powerful and reliable. It was created with a higher capability to provide next-generation users with experiences, enable new deployment models, and provide new services. With more speed, high reliability, and minimal latency, 5G is set to expand the mobile ecosystem to new areas. 5G will affect every sector and make safer transportation, remote healthcare, precise agriculture, digital logistics, and many more will become a reality. 
Imperial 5G 
We believe customer satisfaction is as vital as providing high-quality service. We offer high speed with ultra-low latency, which provides unbeatable connectivity. A lot of businesses are moving towards Imperial, and there are a variety of reasons why this is the case. Imperial is a leading service provider. It offers packages and connections that are based on your requirements.
Wirefree setups are less expensive when compared to a wired connection. It's simpler and is perfect for your requirements. Additionally, it is simple to move the modem also. For example, you're planning to relocate. It's not necessary to think about resetting your wired connection once more. You'll need to connect your router or modem to connect it. Our customer care team is open 24 hours a day to assist our customers with any issue. If you subscribe to our service, our technicians will be on hand at your door to install the system. 
Why do I need to switch to Imperial Wireless?
Imperial offers broadband plans suitable for you. In the market for homes, Imperial is a leading service provider. At Imperial, we watch the network's connections to make sure that the end users get top-quality service.
Cost-effective
Signing up with Imperial can make you money. We offer affordable plans that are not expensive on your budget. Wi-Fi setup is less demanding than physical infrastructure. It means lower maintenance expenses. It is a benefit for the business. It can save money also in another way. If you are moving to a different location there is no need to install wires or other connections. You will need to connect your Wi-Fi setup to connect to the internet.
Mobility
Alongside high-speed internet access, Imperial also lets you have seamless connectivity, without having to stick to your computer. Imperial lets employees be mobile and work at their own pace without compromising speed or connectivity. This boosts productivity and the efficiency of employees.
Scalability
With Imperial, you will be able to expand your company. As time passes, the number of employees rises the Internet can aid you in this situation. Our services will enable more people to grow.
Conclusion
Imperial Wireless offers the best quality Wi-Fi at the best price. The best thing about this company is that customers don't have to sign a contract. That means there is no obligation to keep the services. Customers can keep the service as long as they are satisfied. Moreover, when you sign up for their Wi-Fi service, Imperial will not run a credit check. You would be surprised to hear that high-speed packages are starting from just $80.00 per month. Don't miss the chance to enjoy seamless connectivity. Contact us today to sign up!